NetherSafe™ Technology

Ceramic shaving clipper head with tightly spaced teeth to prevent nicks and snags
6000 RPM Motor

Powerful motor that can effortlessly manage any hair types
Shower Safe & Waterproof

Shower Safe IPX6 certified Waterproof ergonomic Handle Design. Able to withstand high pressure water stream.
Ultra-Quiet Operation

Low vibration motor operating at only 43dB (Sound volume of a Quiet Library)
90 Mins Trimming Power

Built-in rechargeable 750mA Li-Ion battery providing 90 minutes of trimming power. Only up to 120 minutes to a full charge with provided USB cable.
Hanging Replacement
Ceramic Blades

Safely open up hanging ceramic blades for maintenance and washing without risk of drop and breakage.
Clipper Guards Included

Each trimmer comes with a 3-6mm & 9-12mm adjustable shaving guard
𝐔𝐧𝐝𝐞𝐫𝐜𝐮𝐭 𝐓𝐫𝐢𝐦𝐦𝐞𝐫 𝐈𝐧𝐜𝐥𝐮𝐝𝐞𝐬:
📌 Nethers™ Undercut Trimmer Device
📌 NetherSafe™ Ceramic Refill Blade (Pre-Attached)
📌 2 adjustable guide combs (3-6mm, 9-12mm)
📌 Cleaning brush
📌 USB Charging Cable
📌 Detailed instruction Manual

𝐍𝐞𝐭𝐡𝐞𝐫𝐒𝐚𝐟𝐞™ 𝐂𝐞𝐫𝐚𝐦𝐢𝐜 𝐑𝐞𝐟𝐢𝐥𝐥 𝐁𝐥𝐚𝐝𝐞 𝐈𝐧𝐜𝐥𝐮𝐝𝐞𝐬:
📌 NetherSafe™ Ceramic Refill Blade x1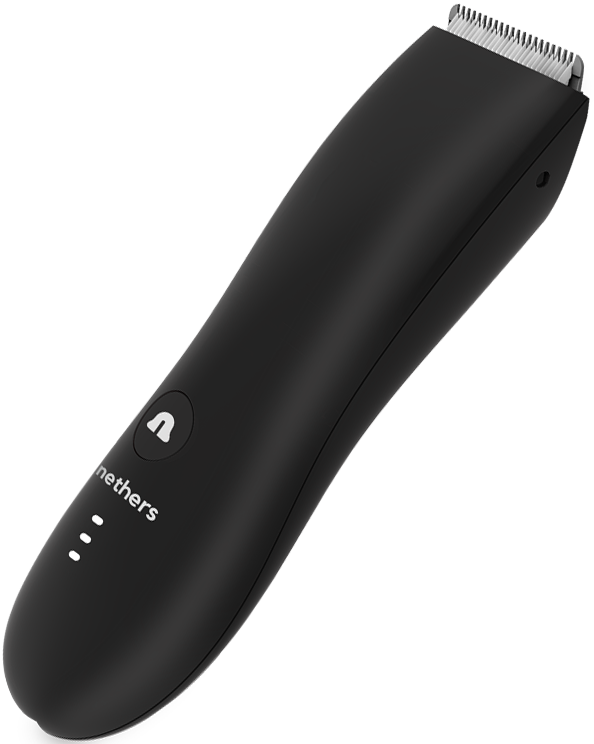 WHY SHOULD YOU GROOM YOUR NETHERS?